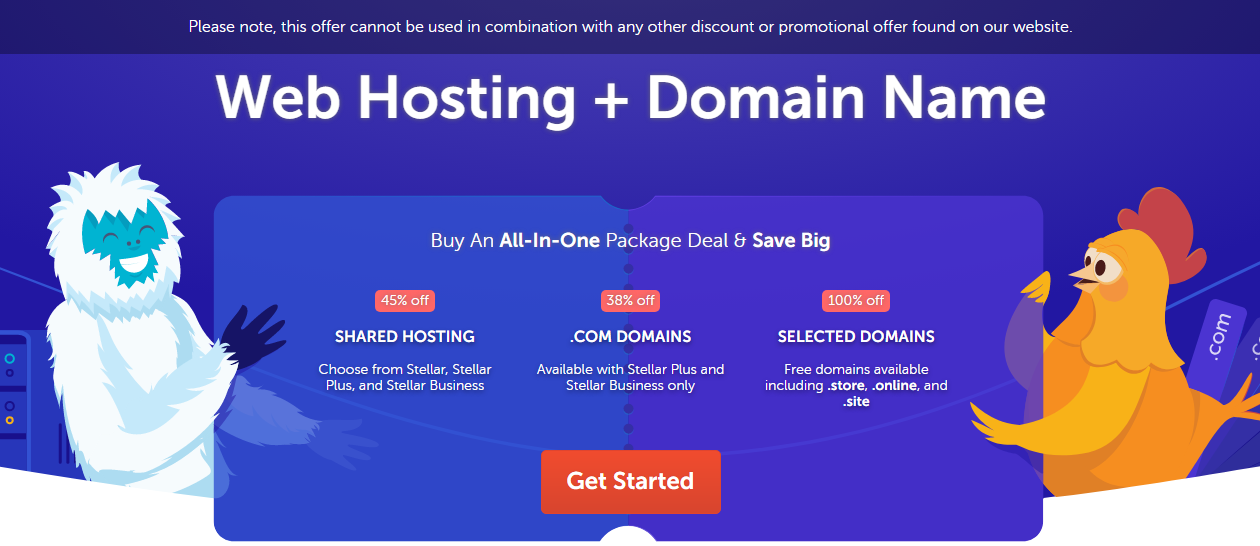 CHOOSE YOUR PLAN
Pricing Plans And Options
Buy Namecheap Web Hosting & Domain in Karachi, Pakistan
It's a great opportunity for the people of Pakistan to avail this offer with a huge discount on it. Namecheap is a well known company headquartered in the United States. This company is now offering its services through its partners in Pakistan. Being one of the partners of Namecheap I would recommend everyone reading this post to get benefit from this crazy special offer from namechap. As a partner I am now providing the best Namecheap web hosting packages in Karachi, Pakistan. But this offer is neither just limited for the people of Karachi or Pakistan. Irrespective of your country or city of residence you can avail this special offer from Namecheap and earn benefits from your business.
In a busy world of today it's not that easy to grow your business or startup. You must consider the option to grow your business worldwide by taking it to the internet. Yes, in this digital era if you are not considering the online sale you won't be able to earn enough. Are you not willing to become a global enterprise? For that you have take your business online for which you will definitely need a domain & a reliable web hosting service provider. Me being a specialist in the field will recommend you to trust on Namecheap web hosting services. Buy the domain & hosting and get started with your online business. Namecheap is the best platform that offers a good domain & hosting.
We Offer The Best NameChep Web Hosting Packages in Pakistan
Every business out there looking for rapid growth and recognition on all levels needs a business website to promote and market his business effectively. In fact, the businesses that do not have a website are no more considered as progressive businesses. Today, when the first need of a successful business is a competitive website the need of web hosting companies like Namecheap is on constant increase. If you have a look at the hosting prices you will find it to be one of the most affordable web hosting service provider. Namecheap shared hosting price in Pakistan is much more affordable as compared to that of other countries. The namecheap hosting WordPress websites are very much in demand. Unlike those of other companies namecheap hosting plans are designed according to the needs of the customer. The Namecheap hosting price is much more budget friendly as compared to that of other companies offering the hosting services in Pakistan. Not only this, they are always there to help you out when you need to extend your space or bandwidth. Namecheap is a web hosting company that offers excellent customer support for its loyal customers.
Finding The Best Web Hosting Services Company In Pakistan
If you are new to the world of business and want to make your business a great success then you might need the help of not only the good web developers but the best web hosting provider in Pakistan. Just like other small business owners you might not be able to understand the need of an affordable Pakistan hosting provider. Let me make it simple for you. Just like in traditional style of promoting your business where you had to pay the newspaper a fee for printing your ad in their newspaper you have to pay the internet server a fee for the space that your website is going to occupy. Every best website hosting Pakistan Company is not the same, some are actually the best at what they do and some only claim to be the best. If you need best web hosting Pakistan services for your business website you should look for the following qualities in the web service provider that you are thinking of hiring for your business website. If you have a low budget for your website you should look for cheapest web hosting in Pakistan that is reliable and experienced too.
" The qualities that each and every trust worthy web hosting service provider should possess include: "
It Is Ever Ready To Provide Tech Support:
The top quality that a web hosting service provider offers for its valuable customers is the tech support. If something goes wrong in the website, especially due to its server then the web hosting service is responsible for removing the issue. So, when you make up your mind to hire a web hosting service you should go for the one who is always ready to help you resolve the technical issues. Any reliable Pakistan web hosting company would offer the tech support whenever you need it.
Affordable:
There is one thing that the most competent web hosting service providers have in common and that is the availability of a number of different packages that the customers can choose according to their needs. As in small countries like Pakistan there are a number of businesses that are small in size and have limited budget for the website of their business. The best hosting in Pakistan is the one that has a variety of hosting plans to offer. If the best reseller hosting in Pakistan offers you the web hosting service that is cheap it does not mean that it is low in quality. If the cheap web hosting in Pakistan that you select for your business website offer you the quality hosting with the server that is never down and has excellent speed then there is no problem in hiring them. Good companies offer cheap hosting in Pakistan to make hiring easy for the small business owners.
Reputable And Established:
The cheap web hosting Pakistan Company that you select for the web hosting of your business website should have a good reputation in the market. You should ask your friends and family members who have their own business websites and ask them about the most affordable and reliable web hosting company in your area. If the company is local you should hire cheap local hosting Pakistan.
Engaging The Affordable Web Hosting Karachi:
According to experts if you have a small business that is limited to the local market only you should look for a local cpanel hosting for your website. The local servers may have more up time that the international servers that have too much load on them. Being one of the biggest cities of Pakistan Karachi has a number of local web hosting companies offering cheap web hosting in Karachi. All the companies that claim to be the best in their field are not reliable and only a few of them are actually the best.
The moment you make up your mind of hiring the best website hosting company in Karachi you should start doing some research about the best companies for the task. Searching the internet is not enough for making the right decision and one has to consult has friends and family members who already have business websites running smoothly about the trusted website hosting services in Karachi. The selection of website hosting company that you hire depends upon the size of your business and the extent to which you want to promote your business. If you have a local business you can hire the competent and cheapest hosting services in Karachi. But if you have a big business that you want to promote on international level and your target is the international audience then you have to hire the best Trusted Website hosting services in Karachi. If you hire a web hosting company that provides a server that has no down time at all it may charge you a little extra.
Searching For An Affordable Web Hosting in Islamabad:
Islamabad being the capital of the country enjoys some privileges like that of having the best professionals of the country just a phone call away. If money is not an issue for you and you have to promote your business to the outside world the best that you can do it to hire best web hosting services in Islamabad. If the company that you want to hire for the marketing of your business website you should opt for the company that has a prompt tech support always ready for you. One of the most important thing to check with the web hosting company that you are hiring is to check how updated they are. Every trusted website hosting company in Islamabad that has a team of highly qualified professionals is well aware of the speed with which the world of internet is evolving. The competent web hosting service providers are well aware of the changes that are occurring in the world of technology and make every effort to use the latest technology in the web hosting service that they provide. Many people who own small businesses buy cheap website hosting in Islamabad.
How To Hire A Trusted Website Hosting Services In Lahore:
The businessmen of Lahore who are still thinking of having a website for the promotion of their business might need the help of affordable web hosting company for hire in Lahore. Every website that goes live on the internet needs some space of an efficient server and a suitable bandwidth to work smoothly. To arrange for ample amount of web space for your business website you have to buy the best web hosting packages in Lahore. For the people who have a small business that they want to promote on local level but do not have enough finances to do so can opt to buy cheap reseller hosting in Lahore, this way they will be able to hire the best web hosting service at affordable rates. If you are a big business owner that needs international exposure of its business through its website might have to buy the best web hosting package in Lahore.